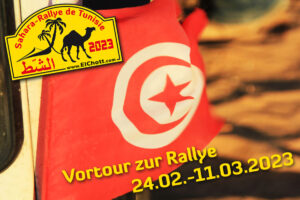 On February 24th, 2023 we start with 3 vehicles in the direction of Genoa, where our crossing to Tunisia with the CTN ferry "Carthage" begins at 25th.
After arriving in Tunis on February 26th the actual pre-tour begins: We will check the planned daily stages, write the road books for the special stages and transfers and check camps and hotels for the autumn.
You can follow us on our tour over the next 2 weeks via EXPLONA live tracking. Here is the tracking website: -> https://tracking.explona.com/elchott/
Assuming a stable internet connection, we will additional post photos and information on https://www.facebook.com/ElChott/.