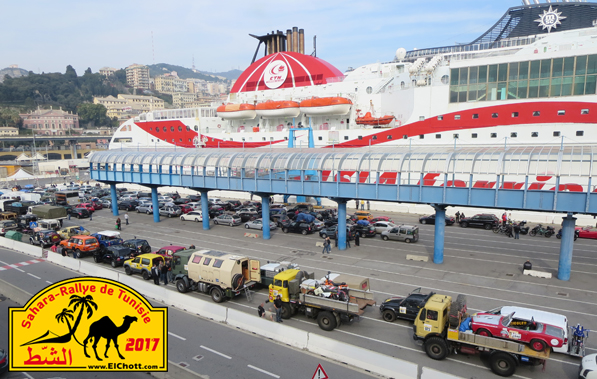 We expect all participants to arrive at the ferry port of Genoa on 21/10/2017 by 11.00 am at the latest.
This applies to all those who are going directly to Genoa, but also for those teams that already arrive the day before to Tortona.
The address in the port: Via Ponte Cristoforo Colombo, Genova
GPS coordinates: N 44°24,727′   E 008°54,640′
For teams that start in the competition, registration is required on the day before at Hotel "Il Carrettino" in Tortona. In this case, the vehicles must be presented by the driver, co-driver or a responsible team member to the technical check. The times for this, entered in the online registration, must absolutely be complied with. Before starting the technical scrutineering the mounting kits for the EXPLONA devices must be installed in the vehicle in accordance with the regulations.
Address: Strada per Pozzolo 15 – 15057 Tortona / Rivalta Scrivia
GPS coordinates: N 44°52,072′   E 008°49,546′
All other participants of course are also welcome in Tortona. They will then receive all necessary documents, race numbers, stickers and roadbooks already there.
Only 5 days until the beginning of the trip – we look forward to see you !!!